Fall Meeting with the Geological Society of America
revised 01/19/2015
MSA Events at the Meeting
Proposing an MSA-sponsored Session
Next MSA Annual Meeting
Future MSA Annual Meeting locations
---
MSA Events at the Meeting
The Mineralogical Society of America (MSA) conducts its annual meeting at the annual meeting of the Geological Society of America (GSA). MSA sponsors a number of activities at the Annual GSA Meeting:
Scientific Sessions
MSA Awards Lunch
MSA Awardee Lecture
MSA Roebling Medalist Lecture
MSA Presidential Address
MSA Annual Business Meeting
Joint MSA and Geochemical Society Reception
MSA Booth in the Exhibit Hall where you can meet the editors of the American Mineralogist and the staff from the Business Office.
---
Proposing an MSA-sponsored Session
Individuals and geoscience organizations may propose technical sessions for the GSA meetings. Descriptions about the types of sessions that can be proposed, instructions, and online proposal submission can be reached through http://www.geosociety.org/meetings/. The deadline for submitting a proposal is usually very early January of the year in which the meeting will be held.
GSA encourages sponsorship of technical sessions by GSA Divisions, as well as its Associated and Affiliated Societies. MSA is an Associated Society of GSA. If you want MSA sponsorship for your session, copy the proposal you will be submitting to GSA by early December to one or both MSA representatives to the GSA Joint Technical Program Committee, Jim Beard jim.beard@vmnh.virginia.gov and Phil Brown pbrown@geology.wisc.edu for approval.
---
Next MSA Annual Meeting
The 2015 MSA Annual Meeting
at the
Geological Society of America Annual Meeting
1-4 November 2015
Baltimore, Maryland, USA
GSA's Meeting Announcement and Information for 2015 GSA Annual Meeting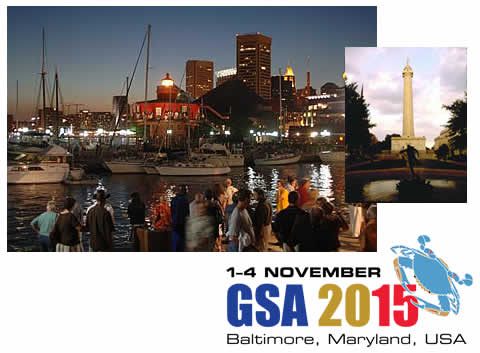 ---
Future Annual MSA Meeting locations:
2016 - Denver, Colorado, USA 25-28 September 2016
2017 - Seattle, Washington, USA 22-25 October 2017
2018 - Indianapolis, Indiana, USA 4-7 November 2018
2019 - Denver, Colorado USA TBD