Short Courses and Workshops sponsored or recognized by the Mineralogical Society of America (MSA), the Geochemical Society (GS), the Deutsche Mineralogische Gesellschaft (DMG, The German Mineralogical Society), and the European Mineralogical Union (EMU).

Short Courses are 2-4 day in length and are in-depth reviews of a broad topic. Published proceedings of the MSA and GS short courses will appear as a volume in the Reviews in Mineralogy and Geochemistryseries. Workshops are 1/2 to 1 day instructions on a much more focused topic or technique. Workshops generally do not result in a publication available after the course. Both Short Courses and Workshops are held in conjunction with a major meeting at which there may be special sessions on the same topic.

Short Course(s) now open for enrollment
Workshop(s) now open for enrollment
Interested in organizing a short course or workshop?


(revised 02/20/2014)



---
Short Course(s) now open for enrollment:



Environmental Geochemistry, Mineralogy, and Microbiology of Arsenic. Organized by Robert J. Bowell, Charles N. Alpers, Heather E. Jamieson, Darrell Kirk Nordstrom, and Juraj Majzlan. The Short Course sessions are Sunday and Monday, June 15-16, 2014 (following Goldschmidt2014 Sacramento in June 2014) at the Miners Foundry, 325 Spring St., Nevada City, CA 95959 USA.

Details & registration
poster

---
Workshops(s) now open for enrollment: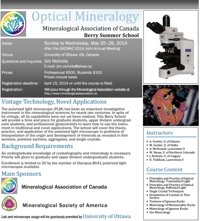 Berry Summer School - Optical Mineralogy. Sunday to Wednesday, May 25–28, 2014, after the GACMAC 2014 Joint Annual Meeting. University of Ottawa, ON, Canada. Main Sponsors: Mineralogical Association of Canada and Mineralogical Society of America.

Information & registration.

---

Interested in organizing a short course or workshop? Information for prospective organizers:


If you are thinking of developing a MSA short course and RiMG volume to be held in the Fall of 2014, plan on submitting your original proposal to the Chair of the MSA Short Course Committee by December 1, 2012. This will give time for the committee to consider it and make their recomendations to the Spring 2013 MSA Council. If all goes well, your final proposal for approval by MSA Council in the Fall of 2013, leaving at least 12 months to organize the course and produce the RiMG volumes in time for the short course. For short courses taking place in the first half of 2015, you should plan on submitting your original proposal to the committee by June 1, 2013.